OneShip wallet is a function that helps prepaid account users to manage consumption payments in OneShip. You can pay for OneClub plan and shipping fee by balance that you have topped up. This article explains all functions that you can use in OneShip wallet.
The article covers the below:
What's OneShip wallet?
OneShip wallet supports you to subscribe to OneClub plan and pay for shipping fee by the balance you have topped-up.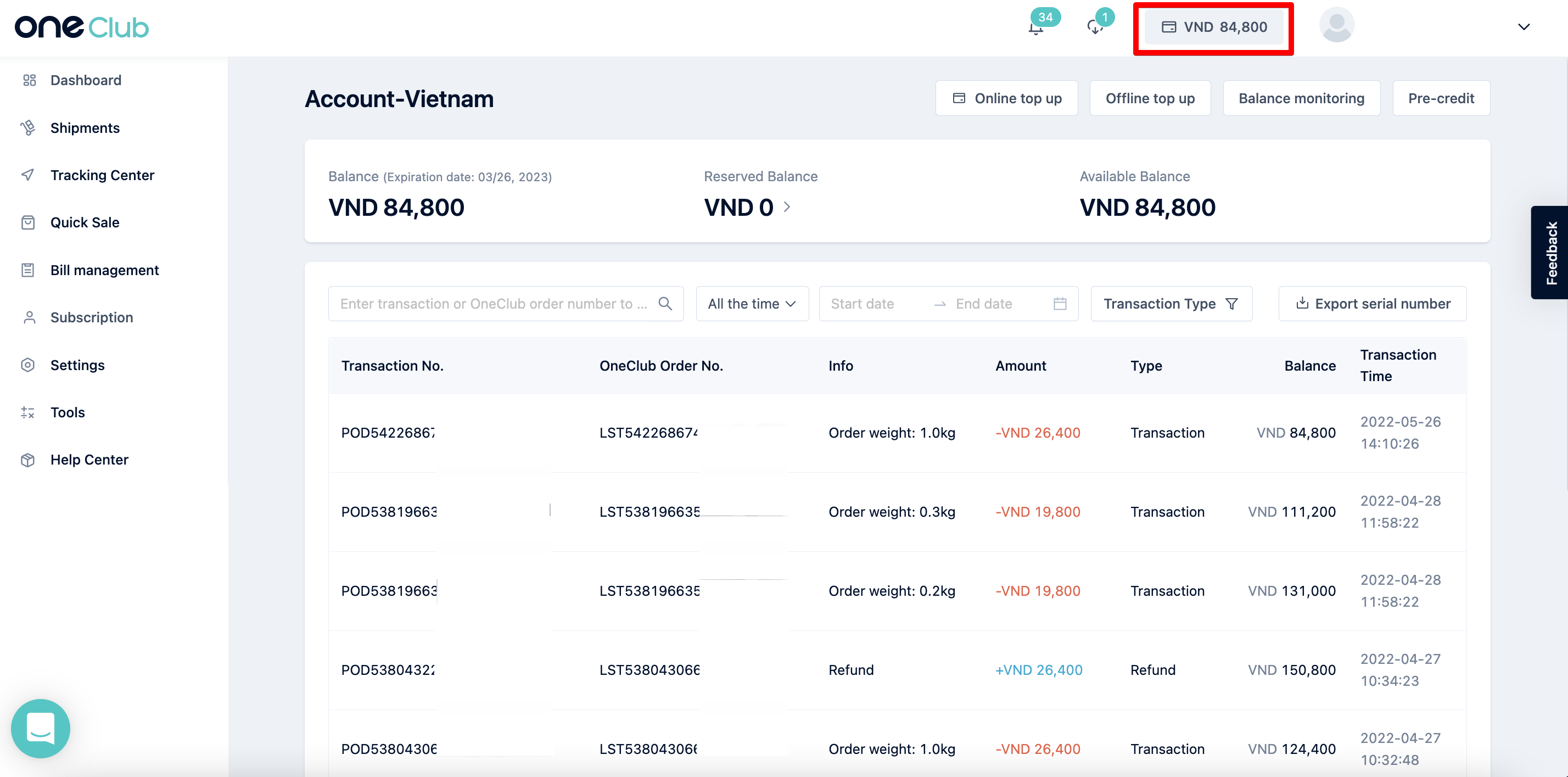 You can check the expiration date (MM/DD,YYYY) beside "Balance", which is 1 year after the latest top-up date.

How to top-up credits?
Step1: Go to your OneShip wallet
After logging-in to your accouQuery wallet transaction recordsnt, please find a wallet icon on the upper-right of OneShip admin panel.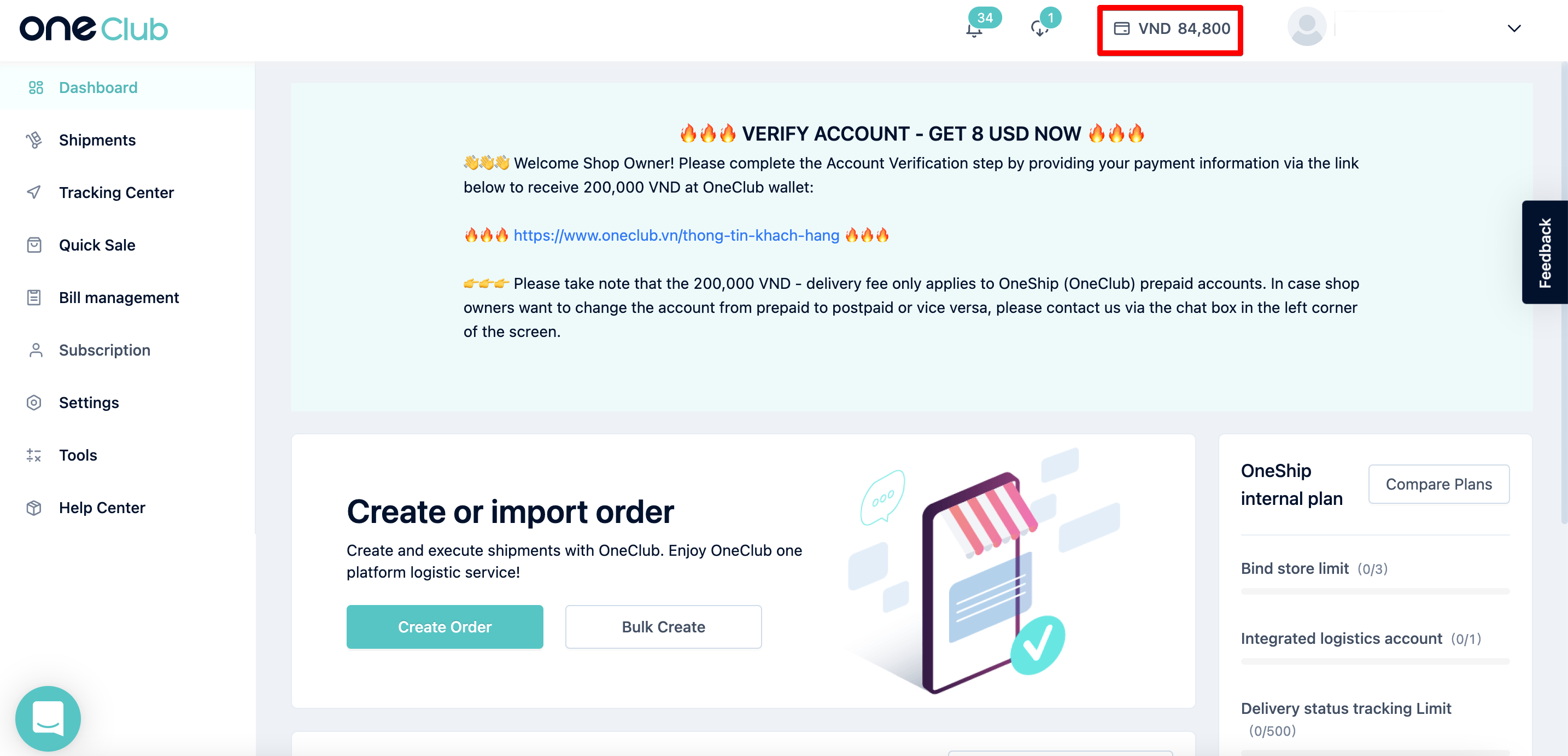 Step2: Top-up to your wallet
For now OneShip supports online top-up in all regions, you can choose different payment methods that are valid. Also you can choose offline top-up via bank transfer.
A. Online top-up
Click "Online top up" button and go to the top up page

Please select the top-up amount and click "Go checkout".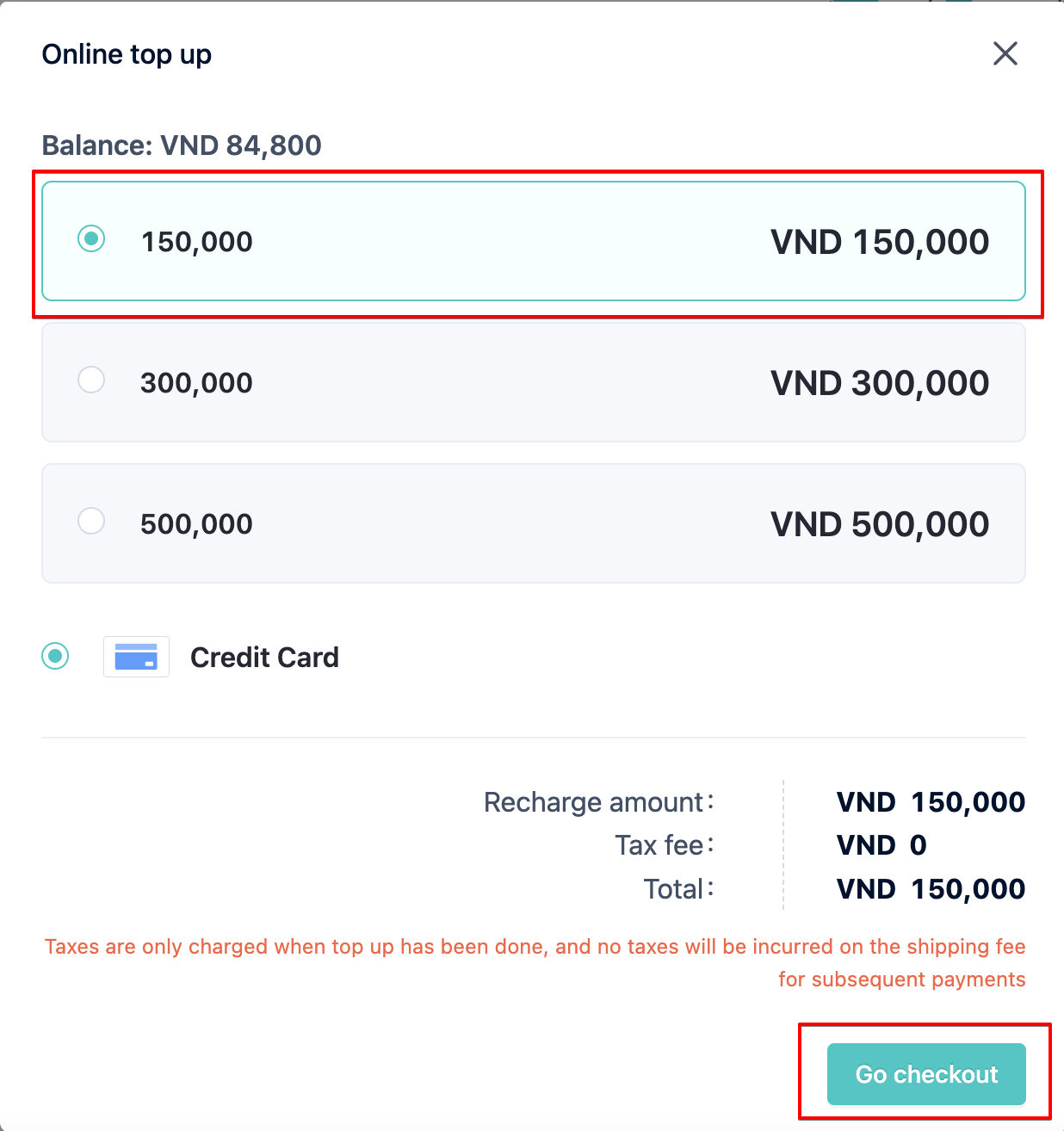 The system will lead you to purchase package, confirm the top-up by clicking "Pay now".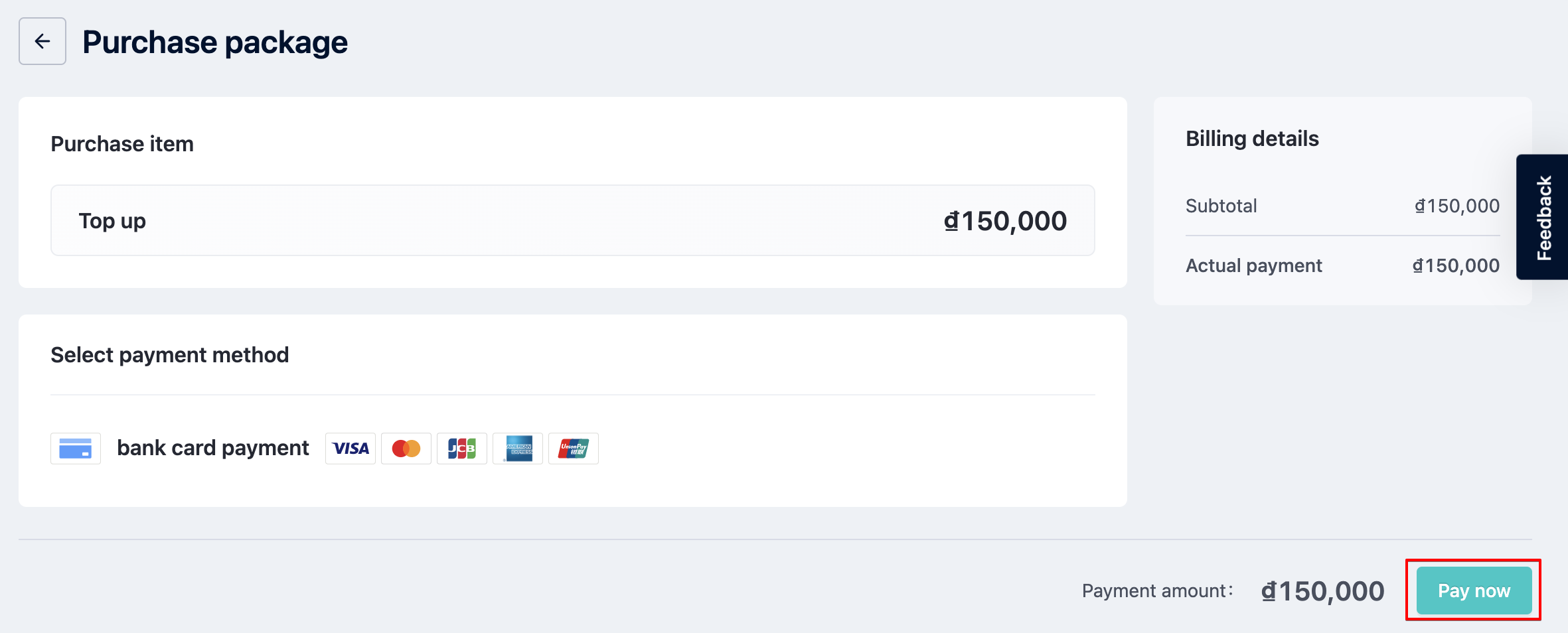 The top-up amount will be automatically added in your wallet. We will also send the top-up notification to your email and Notification Center in OneShip.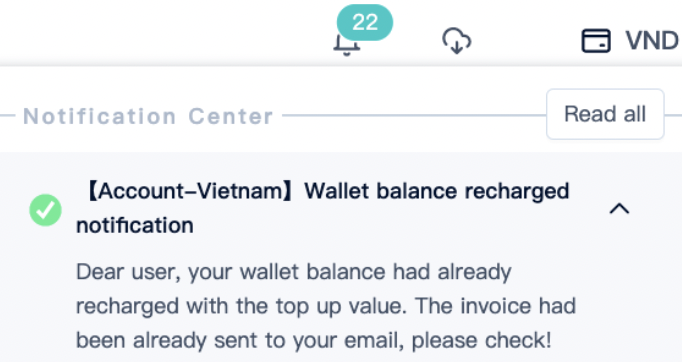 B. Offline top-up
Click "Online top up" button and go to the top up page, then click "Pay Now".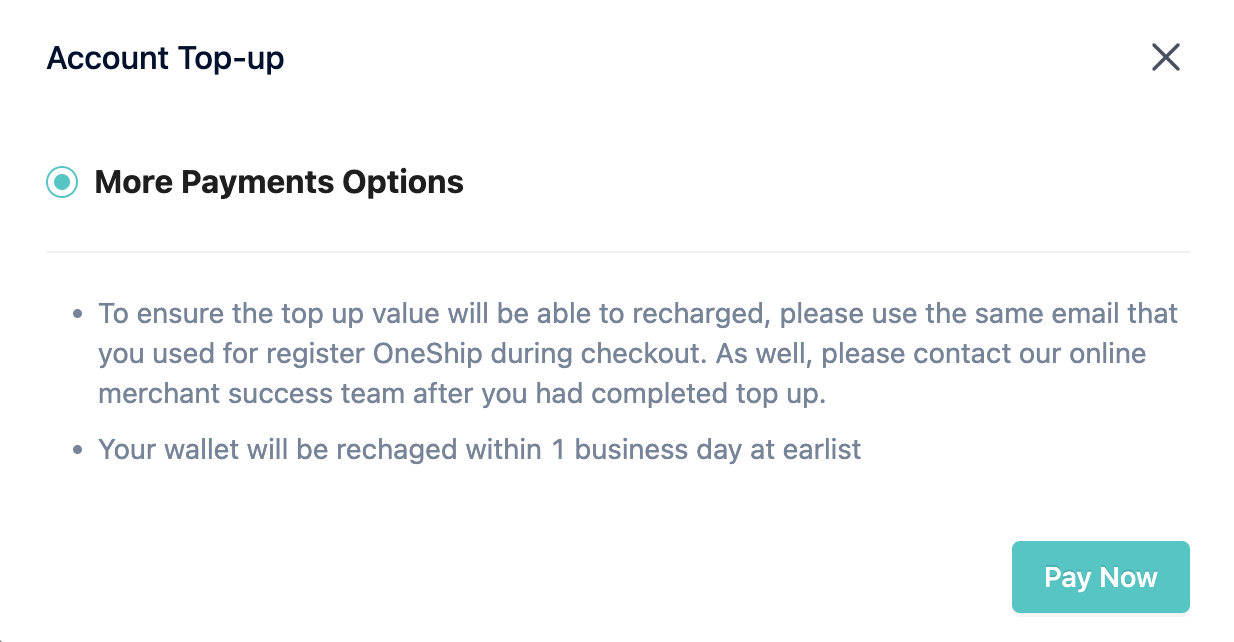 Please confirm the top-up quantity, fill-in the information, and click "Buy Now"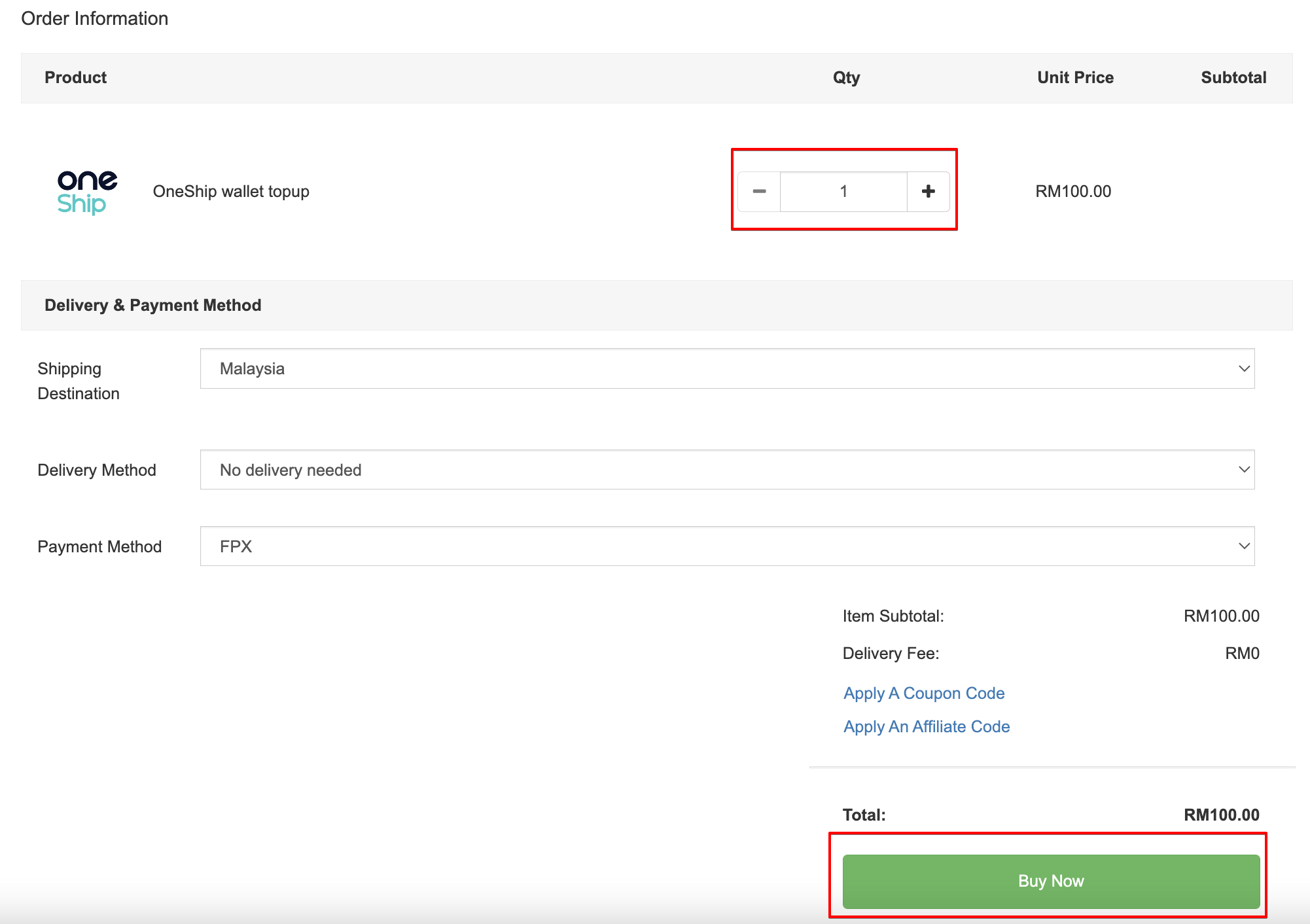 🕹Notes: 
To ensure the top-up amount will be able to be recharged, please use the same email that you used to register OneShip during checkout. As well, please contact our online merchant success team after you have completed top-up.
Your wallet will be recharged within 1 business day at earliest.
Step3: Contact OneShip support team (for Offline top-up only).
If you choose to top-up offline, kindly reach to our online Merchant Success team via the live chat-box on OneShip admin panel on the left downside.
Please provide the following information to our online Merchant Success team:
Business entity name / full name: 
OneShip account (log-in email or phone number):
Top-up order number:
Top-up amount and currency:
Payment proof (bank transfer only):
We will proceed with your top-up request within 1 business day after receiving your information above. You can start executing shipments right after the amount is added to your wallet!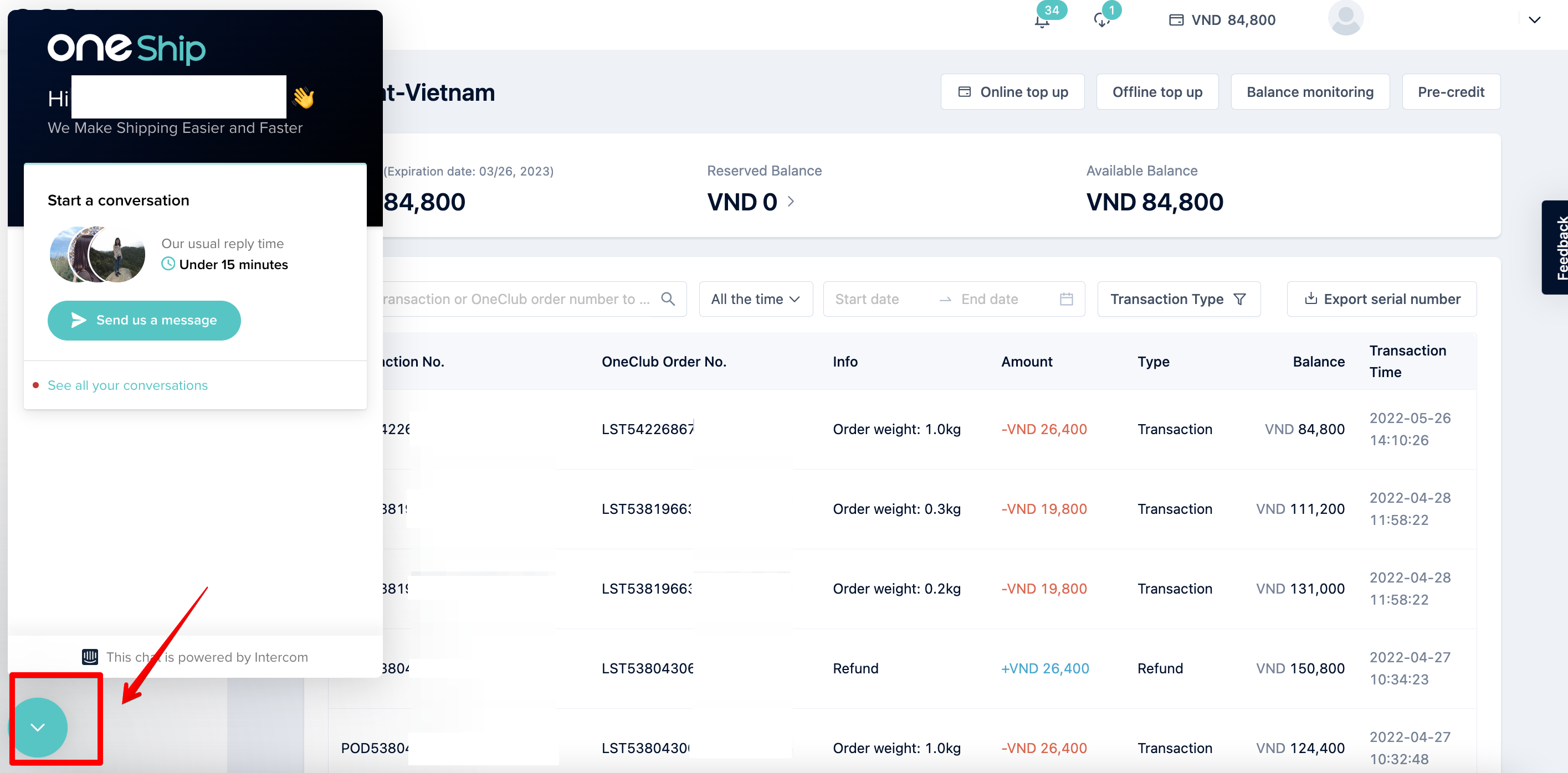 🕹Notes:
Once your e-wallet is ready, there will be a notice in [Notification Center] together with an email notification.
Your credit is valid for 1 year after the latest top-up date. We will notify you in [Notification Center] 30 days prior to the expiry date.
Balance monitoring
After finishing top-up, you can use the "Balance monitoring" to monitor balance in your wallet. Once the balance is lower than the reminder balance, OneShip will remind you by email.

Filling the Balance reminder threshold and Notification email, and kindly open the toggle to enable balance monitoring.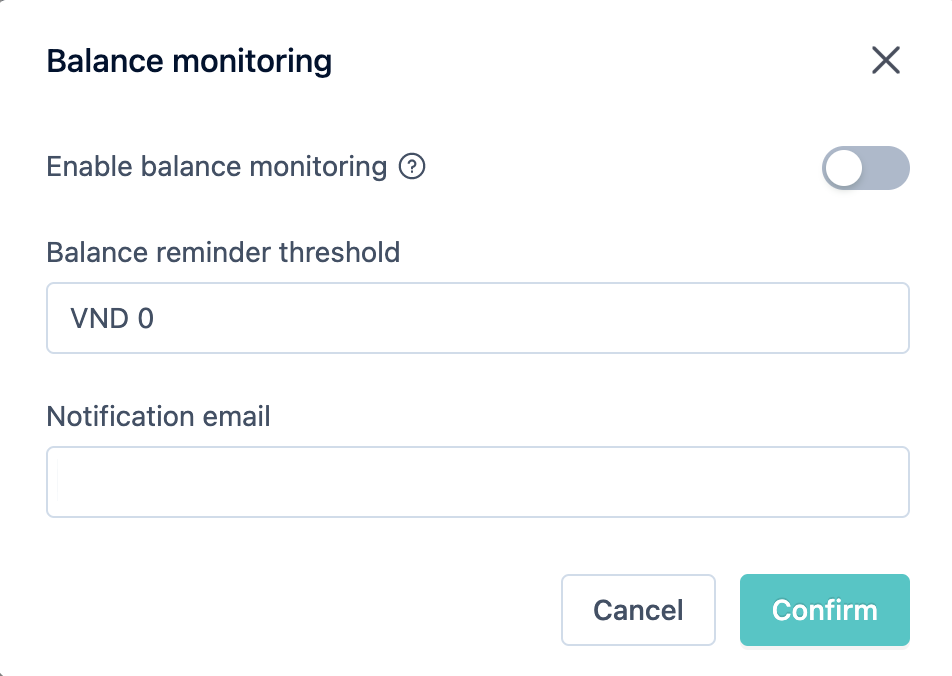 Pre-credit(For prepaid account only)
OneShip provides pre-credit services to prepaid account users, you can use pre-credit and balance to pay your shipments together, please contact the online Merchant Success Team to submit your information and apply for pre-credit.

🕹Notes:
Now only users in HongKong and Vietnam can apply for pre-credit, other regions will come soon.
After successfully applying for pre-credit, available balance = balance + pre-credit threshold.
Your pre-credit threshold will be determined by the OneShip team, and the final interpretation of this function belongs to OneShip.
Invoice
You can export detailed top-up information by clicking "Export serial number"

🕹Notes:
The form does not contain the seal of OneShip, it is only used to record recharge and consumption information. If you want to get an invoice, please contact the onlineMerchant Success Team.
The transaction data in the last 100 days is exported by default.You can filter the date and then export the form.