Merchants in Malaysia are now able to execute shipment with Best Inc.'s logistic service without application or activation process. Best Inc. is currently only available for domestic deliveries within Malaysia. This means that both your pickup address and your customer's delivery address must be in Malaysia.
This article covers the below:
Service introduction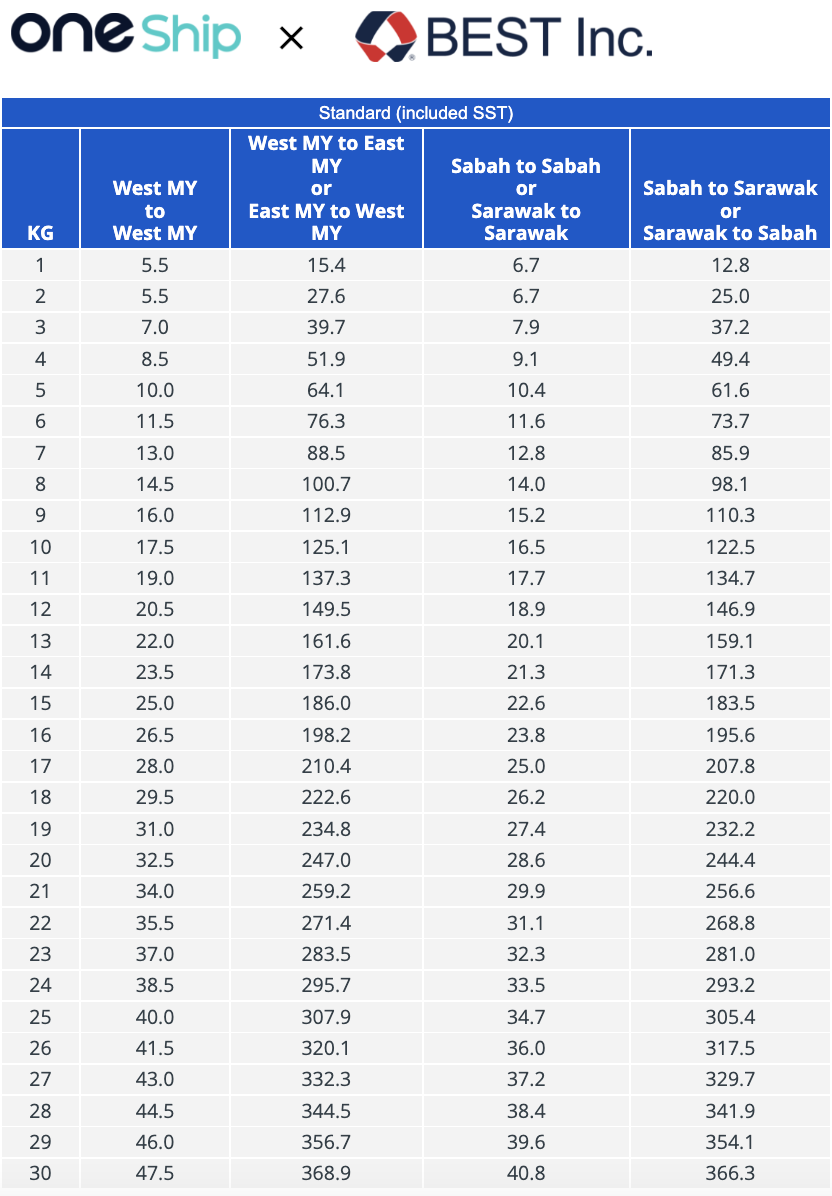 Terms & Conditions
The sender shall provide a minimum volume of

 three

 (3) parcels per pick-up per day from.

BEST Inc. station shall do the pick up within forty-eight (48) hours upon receipt of notification from the sender.

 For deliver item to be determine in Dimensional weight by using volumetric standards as follow: Length (cm) x Width (cm) x Height (cm) ÷ 6000

For land transport, Parcel dimension should not exceed 150 centimeter (cm) Total dimension of Length + Width + Height must be less or equal to 250 cm , actual weight must not exceed 30 kg

For Air Transport, Parcel dimension  Length, Width, Height must not exceed 90 cm, 90 cm, 90 cm , actual weight must not exceed 30 kg

Special handling for High-Rise Building -The parcel must weigh less than 30 kg and must be able to enter the elevator physically.In the event the elevator is not functioning, BEST Inc. shall deemed the delivery as "Unable to Deliver" and another delivery attempt will be made on another day.

BEST Inc.'s liability for any loss or damage of the Shipment shall be limited to the value of the Shipment as indicated and declared by you on the Consignment Note or RM300 per Shipment, whichever is lower

BEST Inc. shall target the following delivery lead time for the Client (for reference only): 1 to 3 days for Central, Northern, and Southern regions of West Malaysia, 2 to 4 days for East Coast region, and 7 to 9 days for East Malaysia.
Shipment process
Step 1: Create shipments
Click on the "+ Create Shipment" button on the top right of the [Shipment] page, choose to create "Point to Point order" or "Bulk Shipment".


for step by step instruction please refer to:
A. How do I book for a shipment? Can I create shipments in bulk?
B. How to create shipments in bulk?
Please note:
Order details will be sent from OneShip to Best Inc.. Once the Best Inc. system has created an order, the delivery status will be updated to "Created." You can now print out the label and wait for Best Express to pick up the parcel.

Same-day pickup is not currently supported.

The minimum of 10 parcels per pick up is required. If there are less than 10 shipments executed on the same day, the service fee of RM5 shall apply and would be charged to merchants on monthly bills.

The pick up address should not be located more than 15 km from any BEST MY station. If the pick add address is more than 15 km, the additional cost of RM1 per km shall apply and would be charged to merchants on monthly bills.

Parcel size is a reference for Best Inc. to help assign the right vehicle. Please choose the size of the largest item if you have multiple parcels in one order. The delivery fee will be charged based on parcel weight after Best Inc. measures the actual weight in their distribution center.
Step 2: Print out waybill and label parcel
Select shipment by click on the "square-box" on the left side of OneShip Order No., choose to "Print Label" or "Print Labels in Bulk".

for step by step instruction please refer to:
A. How to print a single label?
B. How to Create Multiple Labels at Once / Bulk Print Label?
Note: To ensure successful label scanning, please use "label machine and 100x150mm(4x6Inch) thermal label paper" or "A4 blank waybill" to print. If the label cannot be recognized when entering the warehouse, the product will be returned.
Step 3: Best Inc. Driver Pickup
A driver will come on the reserved date to pick up parcels and will contact you via phone.
Prohibited items
a) explosives, firearms or other offensive weapons, flammable or hazardous materials, poisonous or infectious substances, blood or blood products (whether infectious or not), dangerous or undesirable goods or all items prohibited by the International Air Transport Association, the International Civil Aviation Organization or any relevant government authority or under any applicable law or regulation;
b) human or animal bodies or parts of bodies, memorial tablets or any items for use in religious ceremonies;
c) live animals;
d) credit cards or debit cards;
e) currency, or any bearer form negotiable instruments;
f) original copies of any record, drawing, document or electronic recording of which duplicates or copies have not been made and kept by you or high-value artworks;
g) documents containing a substantial amount of confidential information;
h) any form of gold, silver, jewelry, precious or semi-precious item;
i) illegal narcotics or drugs; or
j) weapons, ammunition, radioactive, explosive, corrosive, biohazard, inhalation hazard, perishables, poisonous gases or combustible items
Please refer to the Best Inc. Official Document for further information.
Other shipment and returning notes
Best Inc. Customer Service Contact Info:
Customer service web page: https://www.best-inc.my/contactus
Customer service phone number: +60 035 131 2856
Customer service email: cs.my@best-inc.com
Shipment note:
Best Inc.'s liability for any loss or damage of the shipment shall be limited to the value of the shipment as indicated and declared by merchants or RM300 per shipment, whichever is lower.
Returning note:
If parcel been delivered to customer 3 times but cannot reach them, Best Inc. will contact merchants for appropriate action to be taken, such as the return, disposal or re-delivery of the parcel at the merchants cost.
MYR logistics options pricing & details
Please note:
For promotion and price list, please refer to Best Inc. Rate Card
Net prices are 6% SST included.
OneShip reserves the right to amend this price list at any time without prior notice.