Merchants in Australia are able to execute shipments with Sendle for Australia domestic parcels. SF can support drop-off and pickup services, and can provide home delivery in the last mile.
This article covers the below:
About Sendle
Service introduction
Arrange Sendle collection
Price
Claim
Authorized Tracking Pages
About Sendle
Sendle is Australia's first 100% carbon neutral shipping service.It taps into big business delivery networks and makes them available to everyone in Australia. Sendle makes shipping simple, reliable, and affordable.
Service introduction
Sendle offers the following services through the OneShip platform to ship within Australia  and to USA, United Kingdom, Japan and 220+ countries worldwide.
Domestic delivery
Domestic delivery is a regular delivery option that covers a national low rate network for domestic parcels across all states and territories.
Free Service

Pick up(250g is only available with drop off.)
Redelivery
Authority to leave option
Pickups and delivery areas
You can find a list of Domestic pickup locations and delivery coverage
Sendle Express
Sendle Express is an express delivery option. It's the same as regular Sendle – but faster.
2-day delivery and getting faster
Same-day pickup when you book by 12 pm
Get an SMS 2 hours before Sendle driver arrives
Now available to selected Regional and Remote areas
Sendle Express option is available when your parcel meets all three of these criteria:
1. Your parcel size is up to 5kg and 20L.
2. Your parcel is being booked for pickup (Sendle Express parcels can't be dropped off).
3. Your parcel is being delivered within Australia.
🕹Notes
Sendle Express parcels are all sent with Authority To Leave, by default. Signature on Delivery is not available.
Alcohol can't be shipped with Sendle Express because it may include air travel.
Please refer to 

Sendle Express: 2-day delivery starting at $9.44+
International delivery
Sendle can deliver to over 220 countries worldwide.View a list of the countries Sendle can deliver to.
The international pickup service is available to customers in parts of Sydney, Melbourne, Brisbane, Perth and Adelaide.
Maximum parcel size (2kg and under)

Maximum parcel size (2kg – 20kg)
Delivery zones / time frame
Zone 1 – New Zealand (4-11 working days)
Zone 2 – Asia Pacific (5-28 working days)
Zone 3 – North America (10-24 working days)
Zone 4 – Western Europe (5-19 working days)
Zone 5 – Rest of the world (12-30 working days)
🕹Notes
Delivery duty unpaid with postal clearance. Please complete the payment as soon as possible if duties and taxes are required.
Item and value declaration are required to ensure smooth customs.
Please refer to 

Sendle International parcel service
Arrange Sendle collection
Ensure that your shipments are well packed, so they arrive intact. Please refer to : Packaging guidelines and Get ready for pickup or drop off.
Pick-up at doors
Make sure your location is in the list of suburbs Sendle can pick up from before you select the pick up service.
Domestic Delivery please refer to: Sendle – Australia Domestic Pickup Suburbs
Sendle Express service please refer to: Sendle – Express Domestic Pickup Suburbs
International delivery please refer to: Sendle – International Pickup Suburbs
You can only schedule 3 business days in advance, Sendle driver will arrive between 8am and 6pm.
In the unlikely event that your parcel isn't picked up, sendle will automatically reschedule it for the next business day.
Self-drop off to given location
You can drop off your parcels from Sendle drop off locations.Before you use drop off service please check the location map.
🕹Note: Sendle Express parcels and international parcels can't be dropped off.
Price
Please refer to:Domestic delivery rates and services
Delivery cost is based on weight and volume, whichever is higher.
Claim
All eligible parcels covered for lost or damaged up to $100.
Free Sendle cover please refer to Sendle Cover and Extra Cover policy outline
🕹 In the following cases, you can initiate a claim with Sendle on the authorized tracking page:
If your parcel was lost, you must have made the initial enquiry to Sendle Team no more than 20 business days since the last date in the delivery ETA range.
The claim can only be initiated when the parcel is declared as officially lost by Sendle,and it takes 10-20 business days to finish the whole claim process.
More details please refer to How to claim Sendle Cover for a lost parcel
If your parcel was damaged, please check if your parcel is covered by Sendle's Cover Policy and submit the proof of damaged parcels within 1 business day of the parcel being delivered,or it will exceed the validity period of the claim.
Sendle will review the claim and get back to you with the outcome of the claim within 10 business days.
More details please refer to How to claim cover for a damaged parcel
You have to provide the following information to Sendle Team to ensure a smooth claim process.
The photo of the damage that includes:

the packaging
the parcel label (clearly showing the reference number)
the damaged item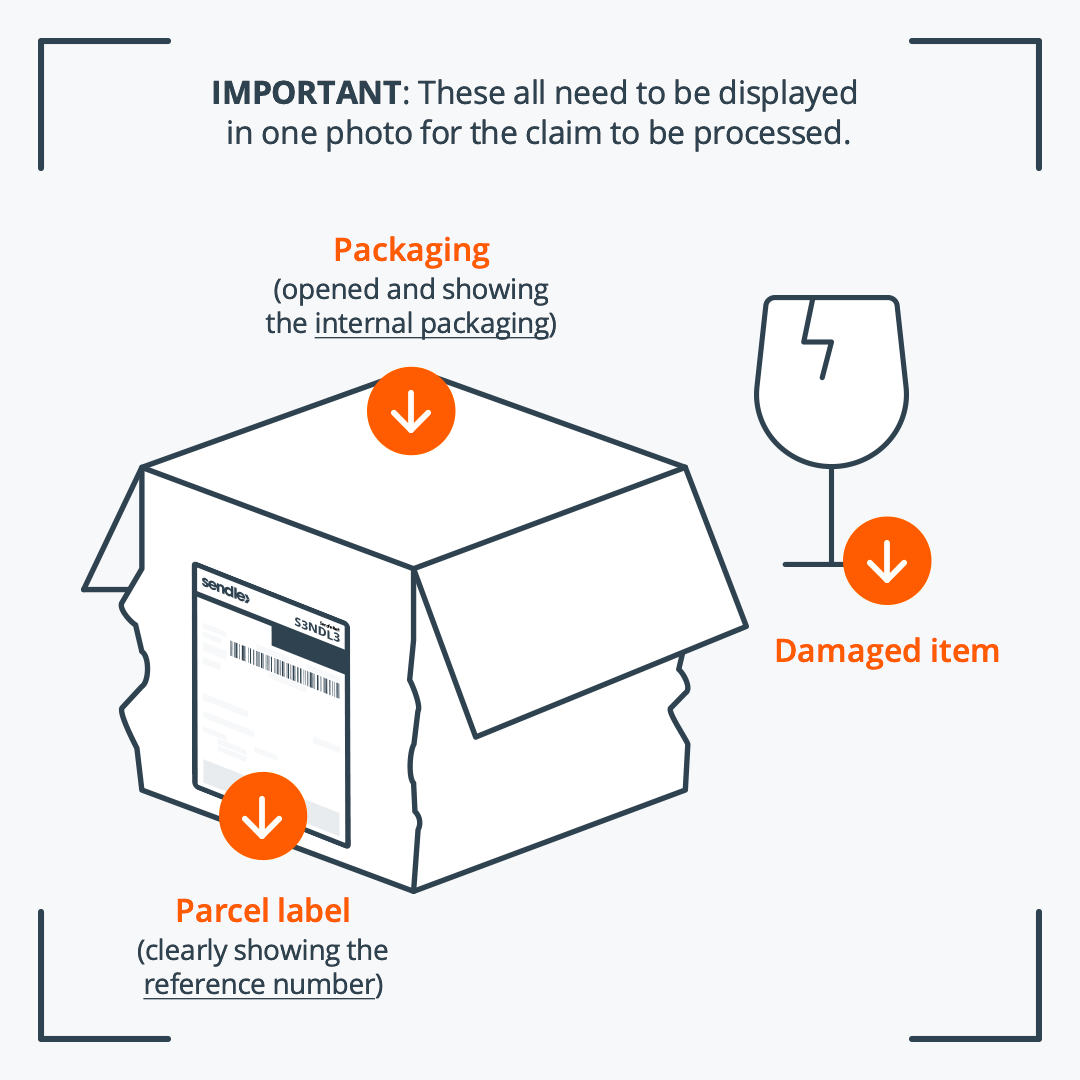 The relevant information about the parcel's contents and proof of its value (like a receipt, invoice or a statutory declaration)
Authorized Tracking Pages
The authorized tracking page linked to Sendle will be automatically generated when the shipment is executed.Click the tracking number on the shipment page to enter the authorized tracking page.
You can reschedule pickup, enquire missing parcels and initiate the claims on the authorized tracking page.

🕹For receivers, they can enter the tracking number on the OneShip tracking page, click "Get more support from Sendle", enter the authorized page which only supports missing parcel enquiry.